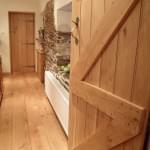 Here at UK Oak Doors we take great pride in our brand and the relationships we have established with our customers since we were formed in 2005.
From continuously reviewing customer feedback, we have been able to improve both of our products and service to provide you with a simple and safe shopping and shipping experience.
But we know that what most contributes towards happy customers is the doors themselves and the sustainably sourced oak used to manufacture them. There's no other way to achieve the natural beauty provided by using solid oak, but to enjoy that beauty for years to come, the oak must be cared for and treated.
All of our solid oak internal and external doors are supplied pre-sanded and untreated. This provides you with the opportunity to finish your doors in your chosen tone rather than having it predetermined for you. But before we even get to that stage, your doors need to be cared for from the very moment they are delivered to your kerbside. Packaging, storage, treatment and maintenance are all vital, this article aims to make all of the above nice and straightforward so that you can enjoy your doors quickly and easily in all of their solid oak glory.
Inspecting Your Doors
When your order is delivered to the kerbside, the delivery driver will stay with you while you thoroughly check the condition of your doors to ensure there hasn't been any damage caused in transit. It's very rare that any damage will have been caused but this provides you with the opportunity to accept or refuse either part or all of your order so that it can quickly be returned to us for a replacement to be arranged.
Your doors are well sealed from the factory to ensure that no atmospheric moisture can come into contact with the oak. After checking your order, the plastic should be resealed so that it is airtight and then the outer cardboard box also sealed to provide additional protection whilst the doors are moved and stored.
Storing Your Doors
Solid oak doors are very heavy. It's part of their charm, that weighty, sturdy feel which can't be replicated by an engineered alternative. But before hanging your new doors, you need to consider how that weight can affect the door. A common mistake is to stand new doors up against a wall which can cause them to bow in the centre.
Instead, your doors should be laid flat but raised off the ground. They should be supported in at least three areas, with support spanning the width of the door and at very least at the top, middle and bottom. This method will not only adequately support the weight of the door and prevent bending but it also removes the risk of an extremely heavy door falling and potentially causing a lot of damage.
The Storage Environment
If you are not fitting your doors straight away, they must be stored supported above a flat, dry floor. Any untreated doors must be stored in a dry room which is free from any damp. This includes any recently plastered rooms where the walls are still dark and the moisture is yet to leave the plaster.
Why Aren't Our Doors Supplied Pre-Finished?
We like our customers to have the freedom to finish their doors in the treatment and tone of their choosing. With our popular and proven Treatex Hardwax Oils available in a clear matt, light, medium or dark, you have various options for achieving exactly the right finish in your home.
That doesn't mean to say you don't have the option to let us do the hard work. We also offer an in-house oiling service where our trained oiling team will finish your doors to the highest standard and repackage them to be dispatched to you so that they are ready to hang upon delivery. Simply choose the 'pre-finished' option when selecting your doors at the product page.
Treatment & Maintenance
Unless pre-finished, all of our doors must be treated before they are hung, not afterwards. It is vitally important not to miss areas where the door has been cut for hinges or any other door furniture as this would allow for moisture to get into the door and spread throughout it.
Your doors should not be left out of their sealed packaging if they haven't been treated as this puts them at risk of absorbing moisture in the atmosphere.
You should only use high quality treatments such as Treatex Hardwax Oils for internal doors and Impranol Oils for external doors.
Remember to check your doors regularly for damage after the door has been hung. The beauty of solid oak is that it can be sanded and retreated if ever scratched. This benefit means your solid oak doors will always stay looking their best and can always be protected against moisture.
Follow these simple rules and your doors can last a lifetime! Not simple enough? Leave the hard work to our oiling team so that you can just sit back and enjoy the natural beauty of your new solid oak doors.