Solid or Veneer - Can I Mix and Match?
Mixing and matching solid and veneer doors
So you have decided you want the beauty and character that only solid oak doors can bring to your home. Their solid construction and the stunning swirls of oak grain add a warmth and unique charm which only a natural material can offer. 
Budget restraints may mean purchasing solid oak doors for your entire house is not an easy decision as it can be a costly choice. So what options do you have?
Do you buy a few doors at a time and fit your doors at intervals which are more affordable? Or perhaps you are asking yourself a question which a large percentage of our customers often also wonder.
Is it possible to mix and match solid and veneer?
Yes it is! We find that many of our customers like to buy solid oak doors for the downstairs of their home as these are the rooms that are most seen by visitors and we often pay more attention to. It's also common that the downstairs is the noisier area of a home due to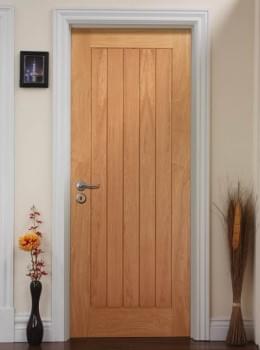 televisions and kitchen noise. As such, the downstairs often benefits from the increased noise insulation provided by thick solid oak doors. Veneer doors can then be used upstairs where rooms are less often used and it is much quieter than downstairs.
Will using two different door constructions be noticeable?
The dimensions and proportions of our solid oak doors and veneer doors are the same, so as long as you choose the same design of internal door, the only real difference will be the grain of the wood. Although there isn't really any material which can match up with solid oak, our veneered equivalents come very close! So even if you have a veneer internal door and a solid oak door fitted to rooms right next to each other, it really shouldn't be noticeable to the untrained eye. Fitting the two different constructions on separate floors therefore isn't an issue at all!
So what are the main differences between solid and veneer doors?
Veneer Internal Doors - Lightweight, these doors contain a particle board core (which makes them easier to carry upstairs than solid oak doors). The look of the veneer is more uniform than solid oak, solid oak will have smalls knots and swirls running through the surface of the wood panels, whereas veneer doors will be void of this kind of character. The standout difference of the two is price, if you are looking for an affordable option which still offers fantastic looks, veneered is the route to take.
Solid Oak Internal Doors - These
sturdy doors have a solid oak core, they are heavyweight and in most instances weigh between 25 kg and 35 kg. Believe it or not, their thick solid construction can even save you money on your heating bills! The added insulation retains warmth between rooms and stops the travel of unwanted noise. Of course the main benefit of solid oak doors is the unbeatable and unmatchable look of the oak grain. Veneer doors simply cannot compete with the elegant, luxurious and expensive look of solid oak.
So even if you can't afford to fit solid oak internal doors throughout your home straight away, you need not worry or delay! Taking our Mexicano door is the perfect example. Why not fit solid oak Mexicano doors throughout the downstairs of your home, Mexicano Veneer doors upstairs, and you can even throw go all out and add a Mexicano Fire door to your kitchen to keep your home safe.