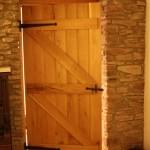 Just another example of a door chosen to suit a particular style of property. The solid ledged and braced doors are experiencing a contemporary revival in all types of homes all over the country.
Ledge and braced doors have been standard in British households for hundreds of years due to their simple construction. A ledge and braced door can be made from a few vertical planks of equal length with horizontal 'ledges' across holding the assembly together.
In between these ledges are the 'braces' which run diagonally across. The front of ledge and braced doors shows only the vertical planks whereas the back has a characteristic 'Z' formation created by the ledges and braces.
They have been common for so long because this simple construction means they are easier to build than most other doors and therefore easier to maintain - rotten parts could be simply removed without fuss, for example.
Ledge and braced doors are still commonly seen at the side entrances of terraced houses and on sheds for the very same reasons today although terraced homes will most likely have more contemporary interior doors, made from pine or hardwood.
A Contemporary Classic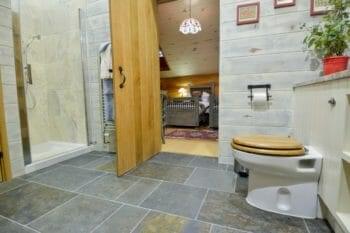 Those interior designers with an eye for syntax as well as home decorating will recognise the term 'contemporary classic' as a bit of an oxymoron. However, due to their heritage then subsequent unpopularity during the '70s and '80s and now current resurgence, ledge and braced doors have truly earned the distinction.
Ledge and braced doors were only a stalwart over the last two decades in very rustic cottages but have become a favourite for more modern homes based near the country and even urban dwellings.
The main reason why ledge and braced doors were seen by many as draughty 'farmers doors' was that poor quality wood was often used to save money and so many ledge and braced doors could be seen on display in deplorable condition.
Nowadays, it is possible to buy high quality ledge and braced doors made from solid oak that helps prevent warping. Due to the quality of the wood it is perfect for a waxed natural finish, which means that modern ledge and braced doors will sit happily within more contemporary homes than would ever have been considered twenty years ago.
Couple this with traditional ironmongery such as Suffolk latches or T Hinges to complete the look, and even the most modern homes will comfortably succeed in feeling as rustic as warm ale on a summers day in front of the village cricket team. (Umbrella not supplied).
If you have any questions about ledge and brace doors or any of our other products, then give UK Oak Doors a call today on 01455 501612 where one of our helpful sales team will be happy to help. Or better yet, why not visit our showroom to take a look at all of our products in person.