Oak doors can give any home a new lease of life. However, after purchasing a new door, it is essential to treat and maintain it to preserve its quality and lifespan. Whether you are treating a brand-new solid oak door, veneer door or even a used door, you need to take great care to ensure your oak stays beautiful and remains strong throughout its life. Treating your door will allow you to achieve your desired look and ensure your doors stand the test of time. In this article, we will look at how to treat unfinished oak doors to provide protection and maintain that natural look. It is important that you take precautions from receiving your door all the way up to finishing your treatment and future maintenance, so your oak doors stay in excellent condition.
Inspect doors before starting treatment
Before beginning the treatment of your oak doors, you need to start with a full inspection to check if there are no faults present. We insist that doors are thoroughly inspected within 24 hours of delivery by opening up all of the packaging. Although it is rare that there will be problems with your doors, it is recommended to carry out this inspection so you can be sure that they are ready for treatment and fitting before a professional tradesman is booked. Once you have checked over your doors it is essential that they resealed and protected with packaging for storage before they are treated and laid flat on top of each other, raised from the floor in a dry room.
Storing doors before treatment
Before treating newly delivered doors, after checks and inspections, you should reseal your door in its plastic wrapping and put it back into the original box for storage. By putting your oak door back into the packaging, you can prevent moisture from penetrating the oak. Exposure to moisture could lead to water becoming sealed in the door after treatment. This will leave the possibility that your oak door could swell, warp or have other problems after drying. If you need to store your door before treatment, then it is advised that you should store your door on a dry, flat surface which is raised off the floor. This method of storage is recommended so the doors have no chance of warping from being left on an angle over a period. Our oak doors come unfinished so you can choose your preferred finish, however, they will be susceptible to moisture absorption. So, it is essential that you store your door in a dry room free of any dampness and wait until any wet trades such as plastering have finished.
Treating oak doors
What you will need –
Dust sheets
Sanding pads
Hardwax Oil
Protective clothing (including safety mask & goggles)
Latex gloves
Varnish paint brush
Lint free cloth
Masking tape


Oil Application
When oiling oak it is ideal to sand with 80-120 grit sandpaper, as the pores of the wood are more open which allows the oil to soak into the wood more effectively. Greater absorption means that the door will have better protection. You should not apply oil in temperatures below 5 degrees or direct sunlight, as this could cause damage. It is important that you are aware of the recommended amount of coats required, which is two coats of a Hardwax Oil (three coats for a door which will be in a high humidity area such as a bathroom).
When applying oil to your oak door you want to use a lint free cloth or a paintbrush for detailed areas to coat on an even layer of the oil once any dust has been removed, ensuring you have stirred the oil first and it is at room temperature. You will need to use long even strokes going with the grain of the oak for the neater finish. The first coat should be dry within 6 hours, providing that it is in a well-ventilated area. Apply the same method for the second coat but allow for 24 hours of drying time to reach the maximum hardness.
Ensure that you have treated your doors thoroughly, including areas of lock cut-outs, behind hinges, along with the sides, top and bottom so the door is protected all around.
The best treatment for your doors
When treating your gorgeous new oak doors, you want to find the best treatment to compliment them. With our great experience, we have found that Treatex and Osmo are second to none in internal door treatments and Impranol are the best oils on the market for your external oak doors. These oils are of the highest quality and will leave your oak doors with an excellent finish. Treatex, Osmo and Impranol oils work well in preventing moisture from becoming trapped to stop warping, without compromising elegant visual looks. Please note that although there are many treatments available on the market, many are not suitable for solid oak and oak veneer doors and may void your warranty if used.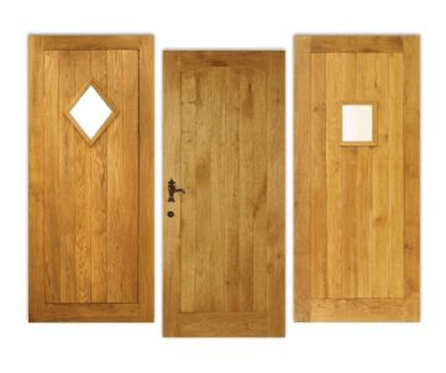 Future application
For future application, maintaining the look of your treated oak door will be much easier. If you just need to top up a coat of oil you can follow the application process above. With stains or small areas of damage, you should use a suitable cleaner and a thin layer of oil to blend into the rest of the door again. If the damage is more noticeable, use sanding pads to fix the area then apply a coat of oil to make your door look brand new again.
Now you know how to treat oak doors, your doors can maintain their beautiful look and continue to be protected from moisture. Browse our range of treatments available here at UK Oak Doors to find the ideal oils, waxes and paints for your doors.