Updating your home with solid oak skirting boards can bring a sense of style and warmth to any property.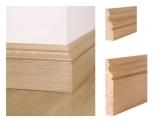 You don't change skirting boards often so it's important to choose a style and type carefully before proceeding. Skirting boards serve a purpose - they are there to cover the gap between the lower part of the wall and the floor and normally are sold in 3 metre lengths and are available in different heights. Fitting should be fairly straight forward but paying a carpenter is an option if you don't feel comfortable 'doing it yourself'. When fitted with an internal solid oak door and oak architrave it will leave your doorways and home with a sense of individuality and luxury.
Tools and bits you will need...
Drill
Screwdriver
Hammer
Mitre Saw
Nails, Screws or Strong Glue
Caulk
Pencil
Tape Measure
Checking & Measuring
Once you have measured your rooms and determined the amount of skirting you need, when buying - it's best to check for warped or damaged pieces on delivery or before you collect from the seller. It might be a good idea to buy extra for wastage and bad cuts. Ideally, when you bring it home , it's beneficial to leave the skirting lying in the room for a few weeks to acclimatize to the room before installation...
Start by measuring the width of the walls of the room. Then using a pencil and tape measure, mark the boards where the cuts will be. Measuring twice is good practice - use the mitre saw to cut 45 degree angles. Once all the skirting boards have been cut - place them against the wall, in place to see if all the joints line up and fit well. Sometimes internal walls are not always straight - so you may have to adjust the mitre angles to make the joins fit.
Securing The Oak Skirting Boards
Choosing to nail, screw or glue the skirting board is personal preference. If your walls are not perfectly straight then screwing the skirting would be a better option. It's important to make sure you leave a few mm gap between the floor and the skirting board when fixing to the wall. It's a good idea to glue the corners or mitre cuts together for extra support.
Final Touches
Once the oak skirting board is in place, apply some caulk along the top edge of the skirting (in between the wall and skirting). Sometimes a small gap is visible at the top of the skirting and the wall. This is caused by uneven walls or warped skirting. If you find small gaps at the joins or the corners a good way to make good is to use an oak coloured wood filler before staining or varnishing.
Finally, it's important to lightly sand and dust off the skirting boards with a tack cloth or damp cloth before applying stain. If you have fitted an oak door and oak architrave then you may want to stain or oil everything together - ensuring consistency - of number of coats applied. If fitting architrave and skirting at the same time then it makes most sense to do the architrave first. Missed the 'how to fit architrave' guide? Read it here!