How to Clean Oak Doors
Oak doors are very elegant and add a beautiful look to any property however like many things they are susceptible to stains and marks. Whether it is external doors exposed to the outside environment or internal doors gaining stains from children or pets, your doors are likely to become stained at some point in their lifetime. Although with the correct cleaning and maintenance you can ensure that your doors keep a brand new look and finish. In this article, we will walk you through how to clean oak doors so you can remove even the toughest of stains. So, grab your cleaning equipment today and bring that shine back to your oak doors.
What you will need
The good news is for cleaning oak doors you do not need an extensive amount of equipment to complete the job. However, you will need a spare hour or two depending on how bad the stains are on your door. Here is everything you will need to clean and restore your doors.
Cleaning equipment needed:
Soft cleaning cloths
Paintbrush (To clean cracks and edges)
Clean water
Weak soap solution
Mineral spirits (Depending on how tough your stains are)
Safety equipment needed:
Safety goggles
Safety mask
Latex gloves
How to remove stains from your door
Firstly, wipe down your door with a dry polishing cloth that is free from any cleaning oils and waxes. When rubbing light stains out of your doors follow the grain of the oak in a circular motion.
After using dry cloth initially, it is time to remove those tougher stains in your oak door. To do this you will need to moisten your cloth with clear, clean water. During this step, you will follow the same cleaning technique to remove more stubborn marks and stains.
If you find that stains and marks are still remaining, you will now need to use mineral spirits to remove the toughest of stains. With mineral spirits, you will again go with the grain of the oak by rubbing it down in a circular motion. This will remove excess oils and wax without damaging the varnish of your door.
For cracks and gaps in the oak, you will need to use your paintbrush, so you can clean any dust from the trim of the door. After removing any dust and mould you should then wipe down your trim with a dry cloth. During this stage, you should also wipe around areas of hardware to polish up any scuffing.
To finish, wipe down your door with liquid furniture polish after completing your clean, especially if you have used mineral spirits. This will prevent the sheen of your door from dulling and will reinstate the shine of your door to bring it back to life.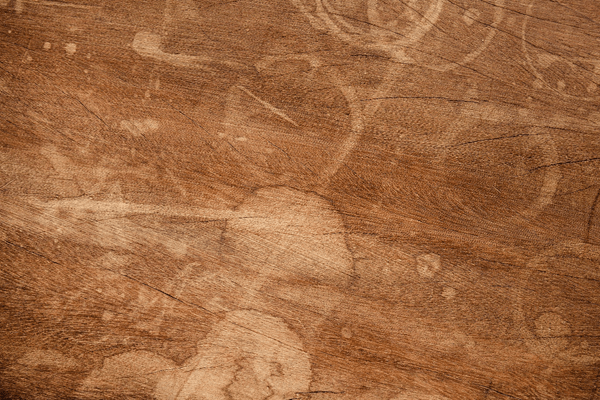 Avoiding stains in future
It is impossible to avoid all types of staining, but you can stop your door from being affected by stains by completing regular cleaning and maintenance. We suggest cleaning your doors weekly to monthly so you can maintain the gorgeous finish of your door. The more time you have the more you can extend the life of your oak door. So, ensure you look after your door properly to keep that shine and continue to complement your home.
Now you know how to clean oak doors to remove stains and marks, you can maintain your internal and external doors properly. If you have any questions on how you should clean your oak doors, don't hesitate to get in touch with us for further information on the best way to look after your doors.