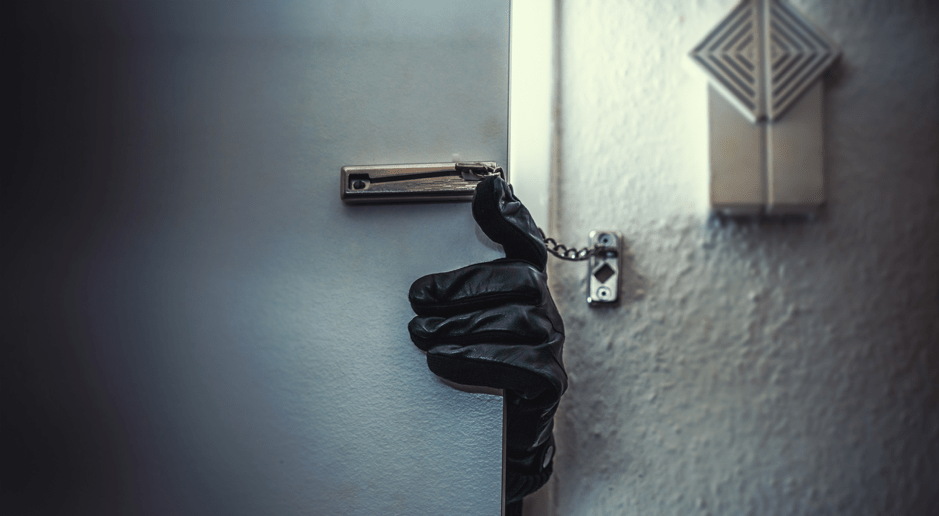 We all associate our homes as our safe place, once we close the front door, we can block ourselves from the world and recharge and relax for a new day.
But, would you feel as safe knowing that:
Fortunately, there are some necessary things that we, as homeowners, can do to protect ourselves and those closest to us while at home.
Our guide will cover theft prevention and deterrent, to ensure your family are safe and well protected.
Exterior Doors: Security Measures
Exterior doors are the first barrier between yourself and what goes on in the world. They are your primary defence shield from burglars merely waltzing into your home.
A locked door is not always a safe door, but there are many different styles of external doors, and each can be fitted with varying kinds of ironmongery to ensure more robust safety and security. 
Front Doors
Your front door could be wooden, UPVC or PVCU, but whatever the compound, there are a few things you must consider in order to ensure they are as secure as possible.
Most door frames are moulded or affixed to the wall and can be easily detached using a crowbar or a similar instrument. Solidifying the door frame to the wall stud with screws will help towards preventing this.
Understanding the best locking mechanisms will perhaps depend on personal choice and the type of door you have, but you can't go wrong with a rim latch and mortice deadlock. The deadlock is a strong metal bar that moves in and out of the section cut into the door frame.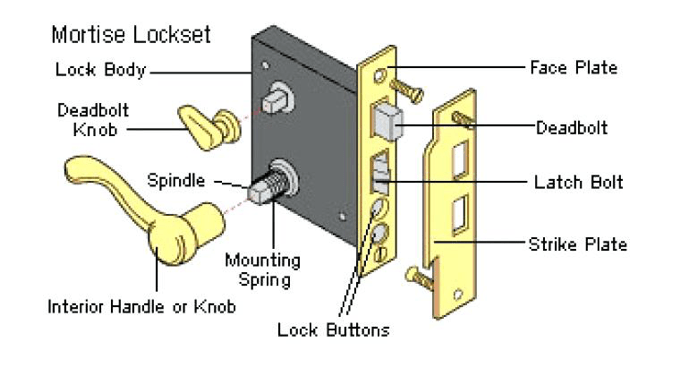 It's also wise to think about a door chain, which enables the user to limit the door to only open to a specific width, which is perfect if there is someone on the other side you don't know. Peepholes are also something that could also come in handy should you have any unexpected callers, as well.
Back Doors
If access to the rear of your house is relatively unsecured, then it's vital to ensure that your back door is up to the challenge of keeping unwanted intruders out.
Rear doors are one of the most common ways to break into a home and this is because they are often an easy target. 
You should install a sash lock, both a deadbolt and a latch bolt, onto your back door.
Two mortice rack bolts should be installed six inches from both the top and the bottom of the door as well.
Patio Doors
For the most part, sliding doors leading on to a patio are already fitted with a multi-lock system. It is advisable to install extra locks if your door doesn't have this as they can be hoisted from the runners.
This is how the door was installed in the first place, so by raising the door from the runner using a crowbar, the intruders are just reverse-engineering the process.
Most sliding doors have a dual screw which is locked in between two central panes. These can be quite awkward to lock sometimes, so many choose just to leave it unlocked. Inserting one long-throw bolt at the bottom and the top of the opening portion of the sliding doors will work just as well.
As we've already suggested, patio doors are easy to lift off the tracks. So, if it can be lifted further than a quarter of an inch, then it might be worth investing in an anti-lift patio door lock.
French Doors
Despite being much less secure than single doors, French doors are popular due to their aesthetic appeal. You'll need to fit multiple locking systems to compensate for the lack of security.
Rack bolts, and locking bolts mounted onto the surface, at the top and the bottom of the door helps to improve the durability and security of the door.
Most French doors open outwards, so adding hinge bolts are highly recommended.
What Else Can You Do?
Alarms: External burglar alarm bell boxes emit both sound and light, it is recommended that these are affixed at the front and back of your home. Normally NSI or SSAIB approved installers should fit your alarm for efficiency and to ensure they are working and effectively placed.
Letter Boxes: Burglars use letterboxes as a place to case the home and will often use hooks and other implements to pull any keys through the letterbox. It's important to keep keys out of the lock and out of sight (and reach).
You could also fit mail catchers or use a lockable external post box.
Door Glazing: Exterior doors with single glazing are a magnet for criminals. Installing plastic glazing film will stop glass from shattering and act as a preventative measure to a burglar attempting to reach keys.
Takeaways
Keeping your external security measures up-to-date ensures that even the most opportunistic of burglars will have a difficult time accessing your home in the usual ways.
Don't make things easy for them, always remove all keys from the lock and moved out of sight. Never leave keys under flower pots or under welcome mats – it's the first place any potential burglar will check.
If you ensure you do all these things, you can rest a little easier at night knowing that your fortified doors are up to the challenge of protecting you and your family.
If you'd like more advice on anything covered in this blog or choosing doors fit for purpose, then give us a call on 01455 502321or visit our Lutterworth showroom.