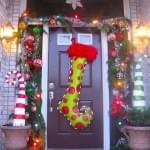 If you've always wanted to decorate the outside of your house but just haven't known where to start, door decoration is a nice place to begin! The front door is the focal point of the outside of your house. It's usually the most eye-catching feature and even if it's not, whoever approaches your home to enter it will be greeted with the festive cheer of your decorations. We all like to walk around our neighborhood and take in the sights and sounds of Christmas, so why not take part this year and decorate your door?
Wreathes
The simplest decoration for your door has to be the wreath. As simple as it may be, an elegant wreath is a great way to jazz up your home and it doesn't even have to be the traditional circle shaped ornament made from holly that we're all used to.
This eye-catching frame design is a great modern twist on the traditional wreath and is super easy to make! It's easily customisable to suit your style and colour preferences so the possibilities are endless. The cute baubles are homemade, too!
We've been kind of obsessed with some of the amazing creations we've seen that have been made with PVC pipes. It doesn't sound that impressive, and a wreath made with PVC piping might just sound wrong but it really works! Just cut up different sized piping into pieces and arrange into the shape you want your wreath to be. Glue them together and then glue ornaments inside the pipes. What you end up with is a modern yet still totally Christmassy and fun looking wreath!
For a more traditional yet totally unique wreath, check out this lovely creation from Susie Harris. Although it certainly looks as if it could have been bought from a store, Susie assures that it's the easiest wreath to make ever! She takes a plain grapevine wreath and simply adds her own decorations to it. We think it looks great!
If you don't feel like making your own, there are plenty of options available to buy! Here are a few different styles of wreathes we've picked out for you.
Lighting
Another beautiful way to decorate your door for Christmas is by using lights. Some subtle lighting, especially at night time, can give a beautifully magical look to your home and a nice glow to your home's entrance.
Hang some pretty icicle lights around the door to complement your wreath. Blue lights look great and go with more modern designs and cooler colours. For warmer colours and more traditional styles opt for white. Just make sure that the lights are suitable for use outdoors and don't obstruct the door from opening!
Create a small display next to your door by placing some light up figures that go with your other décor. This makes your doorway a feature display without going too crazy and lighting up the whole house!
The Natural Look
For a more natural approach, think about the colours, textures and materials that signify Christmas. Plants such as holly and mistletoe, poinsettia and ivy make great wreathes and plant pot displays next to your door. This should be complemented with woods, pine cones and other earthy materials; arranging a log pile is simple and understated but looks beautifully traditional, homely and welcoming.
Fun and Alternative Décor
Sometimes we just want to hang something on our door that ISN'T a wreath, am I right? With a little more searching and with so many DIY options you can easily find some great looking decorations that no one else in your neighbourhood will have!
This piece is a great alternative to the wreath and it's still small and simple to make.
This adorable burlap reindeer is available on Etsy.
Ok, we're not sure if this was homemade or store-bought. In any case it looks awesome!
This simple door hanging looks elegant and can be customised to display whatever you want.
This last one is a really simple idea but it's clever and looks great!
We hope you enjoyed these ideas and have been inspired to decorate your doors! Be sure to check out our other post on Christmas décor and leave us a comment below or Tweet us @UKOakDoors. Don't forget to send us photos of your decorations!