A Guide to Decorating Your Door With Hardware
You have just finished the search to find your perfect oak door, so now it is time to find the right door hardware for that finishing touch. When it comes to door furniture there are many different items that you can add to internal doors to improve their appearance, so it can be difficult to find the right products to achieve your desired look. In this article, we have put together some door hardware tips that you can use as inspiration when decorating your oak doors.
Door Levers or Door Knobs
When it comes to door hardware one of the main focal points is the door handles as it is one of the first parts that people notice. The question here is door levers or door knobs? Functionally both knobs and levers are very similar, but their appearance is completely different. Door levers are seen to be more luxury as they are aesthetically pleasing which makes them a great match for modern and contemporary doors. Whereas if you are going for more of a traditional look, door knobs will serve your door much better here. We recommend that you select your door handles first before moving onto other hardware so you can have a clear material/colour scheme to follow throughout your selection to achieve your ideal look.
Hinges
When it is time to pick out your hinges, you should choose with the finish of your door handles in mind. If you use hinges that do not match with the finish of other door hardware this will disrupt the flow of your doors. So, if you opted for chrome door handles you should pair this with chrome hinges to keep your door furniture consistent. In most cases people prefer to have two hinges per door as this will suffice in holding your door securely to the frame, however, with our doors due to their weight we always recommend that you use 3 hinges with the exception of T hinges. As door hinges are responsible for holding your door in place and are also on show, it is important that they also look the part with your hardware. The most popular hinges are the standard 3" butt with internal doors, but if you have a cottage style door this will be more suited to butterfly, H or T hinges.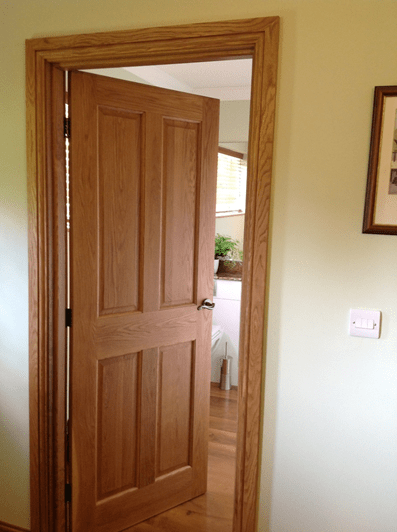 Locks and Bolts
You may have rooms in your property that require locks such as bathrooms or bedrooms. You might think is just a standard part, but this needs to stay in flow with the finish of your current hardware. There are a wide variety of options available out there to purchase from standard bolts that sit on the surface of the door, or latches with built in locks that can be fitted on the mechanism inside your door. If you choose a latch this will need to have a turn and release on the outside of the door, which leaves a nicer finish than your standard bolt. If you have a cottage door, a fishtail lock will be more suitable, whereas a Davenport rim lock will be better suited to traditional style doors.
Ironmongery
Ironmongery is hand forged by craftsmen using traditional blacksmith techniques to create stunning hardware for doors. Ironmongery hardware is the perfect option for barn, ledge & brace doors, and also antique-style doors. As these types of doors are thicker your options on door furniture are more limited, so black ironmongery is recommended to suit these styles. Ironmongery hardware can be purchased in sets or you can purchase parts individually to produce your perfect finish. If you are trying to achieve a cottage style effect, these products will help you to create your desired look.
Now you know what to look for when searching for door furniture it is over to you to bring your door hardware ideas to life. If you have recently purchased a new internal door browse through our excellent hardware products today to create your perfect finish.