Why You Should Purchase Fire Doors For Your Home
Fire doors have been installed in buildings and properties across the UK for many years with the purpose of saving lives and protecting property in the event of a fire. Now there are regulations for homes in the UK to require fire doors if they meet the set criteria by
British Standards
. More people are now fitting fire-rated doors in their homes as they want to feel safer in their properties for reassurance if a fire takes place. So, in this article, we will look into why you should purchase fire doors for your home, covering what fire doors are, when they are required and the benefits that they bring to properties.
What are fire doors
Fire doors are designed specially to prevent the spread of fire and smoke in the event of a fire at homes and properties. There are currently two types of fire doors that can be purchased, these are FD30 and FD60. With fire doors, the clue is in the name with FD30 and FD60 doors offering 30 and 60 minutes of fire protection respectively. For doors to be classed as fire doors they have to pass the official test and attain the standard to be labelled and sold as a fire door. The test involves fire doors being subjected to the BS 476 Part 22 test which measures the duration of how long the door can resist fire spreading between areas and how well it prevents the spreading of flames, smoke and fumes. When fire doors are needed in a property, FD30 is the minimum fire rating required, being the most common category of fire doors for domestic use.
When do you need fire doors?
You may not be aware of when your home or property development requires fire doors, so we are here to help explain to you when you will need fire rated doors installed. Building regulations in The UK outline that fire doors are required in residential and commercial properties, with houses having two scenarios where fire doors would need to be fitted.
If you live in a two-storey home with an integral garage, the door between the main property and the garage should at least be an FD30 fire door.
When building or performing renovation work on a property which is three storeys high or more, every habitable room coming off the stairwell must have a fire door installed.
So, if you are faced with either of these two distinctive scenarios it is essential that you have at a minimum an FD30 fire door fitted. Although
the regulations
are not as strict on private properties compared to commercial properties, fire doors also have great advantages and benefits for domestic homes. Even though fire doors are not required in all properties and for all rooms, you may wish to fit one anyway if you would like to witness the positive effects of a fire door in your home. In addition to the requirements on doors, any ironmongery on your fire doors such as latches, hinges, locks and closers must be fire protected and CE marked, or your fire door will not be fit for purpose. Any details that are not fireproof will have an impact on how effective your door is in the event of a fire.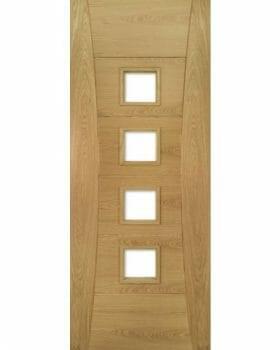 Advantages of installing fire doors
Fire doors have
major advantages
in improving the safety of your home. The two most significant benefits of installing fire doors are helping facilitate the safe and quick evacuation of your home and helping to minimise the damage done to your property. FD30 fire doors will improve the safety of your house in the event of a fire by allowing you to evacuate rooms, protecting both your life and reducing the damage caused to your home. This can, in turn, prevent accidental fires from turning into full-blown conflagrations, so the fires destructive capacity will be significantly minimised. However, these advantages will only take place if your door has been correctly fitted so it is important that your door is properly installed to prevent any failure during a fire. It is also crucial to remember that your fire door will only work efficiently when your door is closed, as leaving it open will leave you and your property unprotected when a fire takes place. As well as adding excellent safety benefits to your home, fire doors have a high quality look and feel as they are more sturdy than regular doors although they can still carry an elegant appearance. Originally fire doors were only available as standard woodgrain doors, however now you can choose from the same variety as regular oak doors from beautiful
victorian panelled fire doors
to stunning
glazed fire doors
. The feel of your doors may not be a top priority when installing fire-rated doors, but fire doors have a premium feel that creates a great impression on your home design and adds value to your property. With their thicker feel, fire doors also offer soundproofing to your rooms. These doors are more acoustically insulating than standard internal doors, which can prevent the transfer of noise from your rooms. So, as well as making your home safer, internal fire doors will also positively impact the aesthetics of your home to enhance the appearance of your property.
So now you know why you should purchase fire doors for your home, you should consider installing fire rated doors if your property meets the criteria or you would just like to make your home safer. Here at UK Oak Doors, we can help you to find the right
fire doors
for your home with our exceptional range. Browse the collection now or contact us today if you have any questions or would like to find out more information about fire-rated doors.