Solid oak wooden doors have been used in traditional and expensive buildings for hundreds of years, but these days purchasing a door in oak, maple, walnut or beech is seen as an investment for the long-term.
If you're looking to elevate your home interior or create a beautiful, natural effect, then oak doors are the way to go. This unique living material possesses its own set of characteristics, which means as the wood ages it will look like no other door in existence.
Why Solid Oak?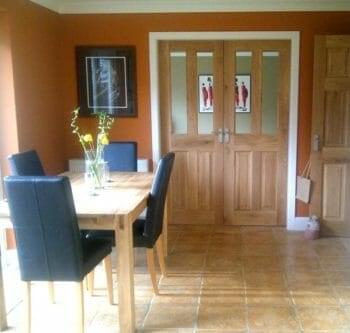 When compared to standard off the shelf doors, a solid oak door is the best choice if you're looking for durability and an aesthetically appealing option. With either contemporary or traditional options available – they'll certainly be something for everyone.
To truly complete the look, we also supply a stunning range of oak skirting boards and architrave for that added touch of perfection. The contemporary, Mexicano range, is perfect for newer properties and can be glossed or stained in satin or matt finishes; doing so will increase longevity.
Solid Oak vs Engineered Oak
There are several key advantages to purchasing solid oak over engineered oak:
- Solid oak doors are robust and natural
- They can be re-sanded and refinished to give them an entirely new look
- Real wooden doors add a luxurious and exclusive feel to any room
- Engineered doors aren't made of 100% real wood.
- Engineered doors are not suitable for re-sanding and refinishing.
- Engineered doors aren't much cheaper than the solid oak.
It's not to say that engineered doors don't have a part to play, but you won't find the same enduring quality that you do with solid oak.
Why UK Oak Doors?
When choosing a new internal or external door, it's important to find a company with in-depth product knowledge and the expertise to ensure that their customers select the right products and the purchase is dealt with professionally and efficiently with top notch customer service.
Environmental Commitment
At UK Oak, we've been sourcing sustainable wood since we began trading, and we take this commitment to the environment very seriously by buying and selling solid oak from managed European oak forests.
High-Quality Products
During a decoration or renovation project, it's much better to opt for the highest standard – particularly if you are planning to sell your home. It's no secret that for most home buyers, first impressions are everything and if your property is fitted out with great quality products that look the business then you're more likely to sell your home more quickly and at a higher price; great looking internal doors are just another way to make your home even more appealing.
Competitive Prices
The solid oak door market is a competitive one. With so many firms bringing their products to market, costs are high, particularly when compared to the standard doors that you can get from just about any DIY store.
But, by the time you've invested in undercoat and gloss as well as factoring in the price of the door itself, it makes sense to spend just that little bit extra and invest in solid oak, which will last much longer. Solid oak is also a natural insulator, which means that it will prevent heat from escaping through its core like a standard door and save you money on your utility bills.
All of our doors are available in a range of price points, so you can be sure that whatever you're looking for we have it here in a selection of styles and designs to suit you.
If you have any questions about solid oak or any of our other products, then give UK Oak Doors a call today on 01455 501612 where one of our helpful sales team will be happy to help. Or better yet, why not visit our showroom to take a look at all of our products in person.