Painting Oak Doors – Tips and Advice
We all want to upgrade our home and make it look more appealing, however, we like to do this in an affordable way. One of the most simple and cheapest ways to improve your home appearance is by painting your oak doors. Whether you are adding a fresh coat of paint to cover up stains on external doors or just want to change the colour of your external door, painting your doors can have a great impact on the appearance of your home. In this blog article we will give you all of the tips and advice you need for painting oak doors, so get your brush and roller ready to transform the doors at your home.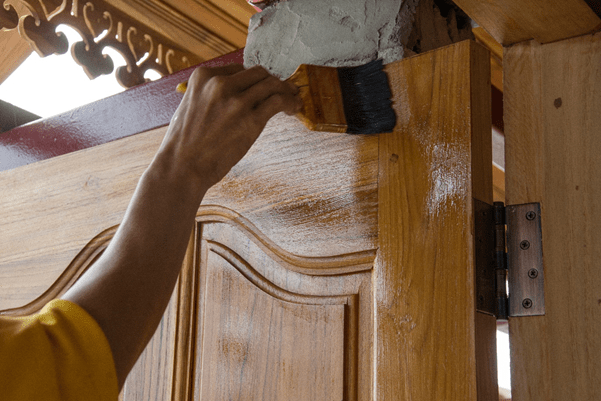 Preparing your oak doors for painting
Painting your oak doors is one of the simplest ways to change the whole look and feel of your home, however, preparation is essential when it comes to making this home improvement. To ensure that you are properly prepared for painting your doors we have put together a list of tips, so your door is ready for the fresh finish.
Remove Your Door From the Hinges
When painting your door, you want to make things easier for yourself, so the first thing you should do is remove your door from the hinges. This allows you to prepare properly so you can achieve the new look you desire.
Remove All Door Hardware
If your door has any hardware you should remove all of this, so you start with a blank canvas. This will also reduce the risk of excess paint covering your door fixtures as well as making the door much easier to paint.
Ensure Your Door is Clean
Internal and external doors can become dirty and dusty with many people using them each day, so you should give your doors a proper clean before you start any painting. The aim of this is to remove any stains or marks before applying any paint. To do this use a damp cloth and wipe from top to bottom, paying close attention to spaces between any panels.
Sand Down Any Rough Sections
You want your door to look great when it is finished, so if you are looking for a smooth finish you should sand down any rough sections of your door. This will only require a minimal amount of sanding, so your door is completely smoothed out, so any surface shine and previous paint are removed.
Wipe Down Once Again Before Painting
After you have finished sanding down your door, it is time to clean your door before you start painting. To do this wipe down your door with a damp cloth and hoover up any sawdust present from sanding. Your door will now be ready for the new layer of paint.
Painting Your Door
Now that your door is completely prepared it is time for the painting to start. As with any DIY project, safety is an important aspect to the process so below you will find our tips to keep you safe and protected while painting your oak door. As you may have an oak panel door or glass door, we provided the processes of painting both, so you can take on our advice to add the perfect colour to your oak doors. We have also covered veneer doors as they are currently very popular and require a different method of finishing.
Tips For Safety
Safety needs to be considered when painting oak doors as solvent and oil-based paints may give off harmful fumes. So, we recommend wearing safety glasses/goggles and a dust mask if you have one available to keep yourself protected when carrying out your painting.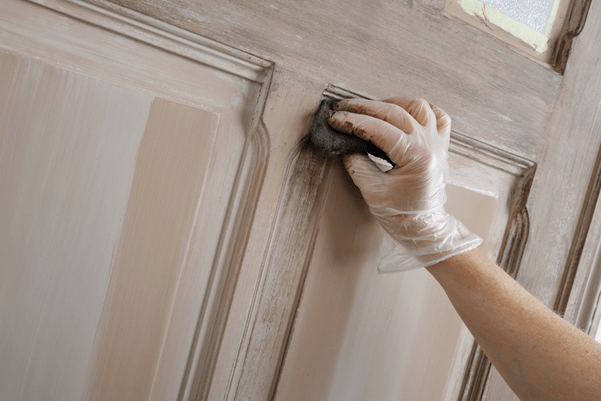 Painting Panel Doors
With a panelled door, you should first start off by painting the panels of the door and the mouldings surrounding them followed by the centre vertical to the panels.
Next, you will paint the cross-rails, starting off with the top rail of the door and working your way through each rail until the bottom rail of the door.
After you have finished the cross rail you will move onto the outer verticals of the door and then finish the door off by painting the exposed edges of the door.
Painting Glazed/Glass Doors
If you have a glazed door you should begin by using a paint shield or masking tape to protect the glass of your door.
Firstly, you will start by painting the mouldings around the glass. We recommend using a cutting-in-brush to help you complete this.
The next section to paint will be the cross-rails, this will follow the same pattern as panel doors starting with the top rail and working your way down to the bottom rail.
After completing the cross-rails you will move onto the outer verticals and then finish the door off by filling in the exposed door edges.
Painting Veneer Doors
When it comes to veneer doors you will need to use a similar process in painting parts of the door. Although veneer doors differ as they require extra care compared to regular oak doors. With veneer oak, you should avoid coating paint on in thick layers. Instead, you should apply a few thin coats to the door and allow each coat to dry completely before applying the next coat of paint. When you have finished your final coat, you should leave your door to cure for around 3 to 4 days before putting it back on the hinges.
Now we have given you our tips and advice on painting oak doors it is over to you to transform your doors with a fresh new finish. Browse the oak door paints and oils available here at UK Oak Doors to find your ideal colour and finish. Alternatively, contact us today if you have any questions or require further information on how to paint oak doors.