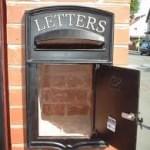 Fitting a Letterbox to an External Door
There are many fittings to be considered for a new external door but not only do the practicality of items need to be thoroughly considered but the style of the fixture must be in keeping with the style of the front door.
When it comes to choosing a letterbox the home owner must first consider which is more suitable for their home; a traditional door mounted one or a secure and
lockable wall mounted one.
The wall mounted letterbox will prevent any tampering by household pets as the letter drops through the door. Of course more importantly it will remove the need to cut a hole in the middle of your lovely cottage external oak front door.
However, a carefully chosen letterbox in keeping with other fittings can still maintain a prestigious entrance. If you choose to fit a letterbox to your external door then here's our guide.
Letterboxes are available in a variety of styles and materials such as stainless steel, plated, cast iron, aluminium and solid brass. They can be fitted either horizontally or vertically to the door but our guide will apply to either and door mounted letterboxes of any material follow a very similar installation process.
Obviousl
y different styles of doors will predetermine the number of possibilities for the positioning of the letterbox. (for example, on panelled doors door it could only be fitted to the muntins or cross rails).
You will need: letterbox & accompanying screws, drill, drill bit (12mm/ 1/2 inch), countersinking bore, filler (optional), chisel, jigsaw or padsaw, sandpaper, pencil or chalk, tape measure.
Roughly hold the letterbox by hand against the door to approximate the desired height.
Next you will need to find the exact centre point of the door at the desired height to ensure a truly central position. Some doors will have a style which allows for easy location of the centre point without measuring, like our Contemporary External door or the Ox-Bow External door. If however you do need to find the centre point simply measure the width of the door and divide by half. Then lightly mark the centre point on the door in a place you are certain will be cut out during installation process.
Ensuring the letterbox is centralised and positioned correctly, mark out the rectangular outline of the central opening slot. Some products will come with a template for ease of use as it is important that the slot is only marginally larger than the hinged letter plate flap.
In the two top corners of the rectangle drill a 12mm (½ inch) access hole for the jigsaw or padsaw.
Cut out the slot
Clean up the edges and trim the corners with a chisel
Hold the letterplate (the outer part that holds the letter flap) against the door and carefully mark the drill points. Afterwards, measure the distance between the points on the letterplate and then compare this to the drill points you have marked on the door to be extra sure before you start drilling)
Drill the holes in the door
Test fit the screws to the letterbox and shorten screws if door is too thin whilst bearing in mind you will need to counterbore the holes on the inside of the door so the screws will not protrude. (you may choose to fill the holes after for a cleaner finish)
Attach the letterbox to the door
Sit back and admire your handiwork