Finding The Right Colour for Internal Doors
Finding the right colour for internal doors can be a difficult task as there are a wide variety of paints on offer to help you achieve your desired look. Some people may prefer a more vibrant and extravagant look, whereas others are more keen on a neutral appearance when it comes to door colours. In this article, we will talk you through how you can identify the perfect colour for your internal doors. So, get ready to take note to transform the appearance of your interior oak doors.
Keeping it Natural
The best thing about oak doors is their beautiful natural appearance, so keeping your door's original look will complement your home. Here at UK Oak Doors we strongly recommend only using oil on our oak doors, as this is the best way to maintain the oak of your internal door. In their natural state, internal oak doors can add elegance to any property, so there is no need for colour as they look great with both modern and traditionally designed interiors. If you are opting to keep your door's natural look, we recommend using our internal door oils to maintain the appearance and to extend the life of your oak door. Applying oil to finish your door will ensure that it remains protected from moisture while also enhancing the colour and depth of the oak's appearance.
Thinking About The Flow of Your Interior Design
If you are considering changing the natural oak effect of your internal doors in the next 3 sections, we will provide you with our advice on choosing your ideal colour. When you are picking out a colour to paint your internal doors, it is important to consider your interior design. Keeping the flow of your current design is important here, as your doors are a focal point inside of your home. Interior designers recommend that you keep the style inside of your property consistent, so your doors need to compliment the rest of your home. So, in this situation, if you choose a colour for your interior doors which is not already within your design it is likely to disrupt the flow of your rooms.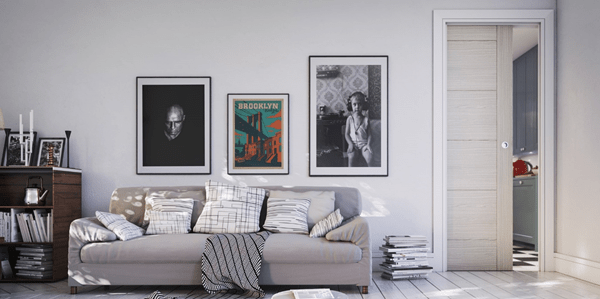 Using Neutral Colours
Using neutral colours on your internal doors will always be a popular choice, as it blends in with your interior rather than standing out. In current trends, the most popular interior door colours are shades of grey, white and black. These colours are great as they can fit in with a wide variety of colour schemes to maintain the appearance of your interior design. In recent years clay colours and green shades have also risen in popularity. The great benefit of neutral coloured internal doors is that they can help you to achieve a modern look in your property. The most used neutral colour in recent years has been white, as it has the added feature of creating a brighter and more spacious environment in homes.
Opting For a Brighter Look
Many people like to make a statement in their homes, so a good way to achieve this is by using brighter colours for standout visuals. Painting your internal door in an interesting colour will make a great difference to your interior design, however, it is important to think about the colour schemes of your interior when adding vibrant shades. As your doors will open into two of your interior spaces you will need to choose a colour that will work for both areas. The basic rules for matching colours are that warm colours work well together and cool colours blend with each other. Mixing warm and cool colours is not advised though as this can cause clashes to disrupt your interior. Some of the most popular colours for interiors in 2020 are pink shades with pale and coral tones and shades of blue such as marine, aqua and indigo.
Now you are ready to finish your search in finding the right colour for internal doors, it is time for you to add the final touch to your oak doors. Browse our excellent range of Mylands paints for internal doors today to find the perfect colour for your interior doors.