I love wall decals; they're a quick and easy way to redecorate any room. I use them in the living room to add a splash of seasonal colour to the room, without having to go through the time consuming process of re-painting every few months. When my kids were younger, I used wall decals in their rooms as well. Children change their interests so rapidly, and decals are far easier to change than wallpaper!
These are some of my favourites….
1.       Vintage photo frames (Wall Sticker Outlet, $39)
These creative stickers are designed to look like vintage photo frames, and are a great way to display your photos in your living room.  You just stick the vinyl photo frames to the wall, and then use blu-tack or double-sided tape to stick your photos onto the frames.
These ones accept standard sized 5x7 photos.
2.       Deco Sea Horse Under The Sea (Icon Wall Stickers, £8.99)
This stylish sea horse wall sticker is great because it comes in loads of colours and sizes, and is perfect for bathrooms.
The material of this decal is non-toxic, so will be a perfect addition to a nautical themed child's bedroom too.
3.     Flags of The World (Abode Wall Art, £26)
Travel is a passion of mine, but I was never particularly good at Geography when I was at school.  Learning about different cultures is interesting, but I'm terrible at remembering facts and trivia – like where a country is, or what their flag looks like, in my head.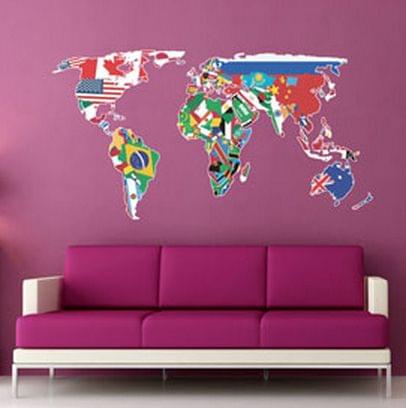 But hey, you're never too old to learn, so I'm thinking about investing in this one for my study. It features a map of the world, with the bigger countries decorated with their national flags.
4.     Kitty Cat (Dali Decals, $10) 
My wife loves this Kitty Cat decal. It is cute, but abstract, and understated enough that it doesn't look too cartoony.  This wall decoration would look great in a large, open hallway - perhaps next to your coat rack, so that the cat is always there, ready to welcome you home after a hard day at work.
5.  Summer Sunflower (Wall Art, £9.27)
We don't seem to be able to grow anything in our garden except weeds, so the extent of our gardening involves potted plants and window boxes. I'd love to be able to grow six-foot tall sunflowers. This summer, I'm considering having a (synthetic) sunflower of my own to look at – I love this one; it's so bright and inviting – bringing the outdoors indoors, with none of the work :)