Today we are joined by Carly, a writer for SofaSofa.co.uk.  Carly loves reading about interior design and watching home makeover shows on TV! When not leafing through design magazines, Carly loves walking her two doggies.
"Cottage chic" is one of the hottest trends in interior design in recent years – and it's easy to see why. Cosy, comfy, and stylish – with just the right mix of contemporary edge and lived-in louche, it's the total opposite of cold, harsh modernism.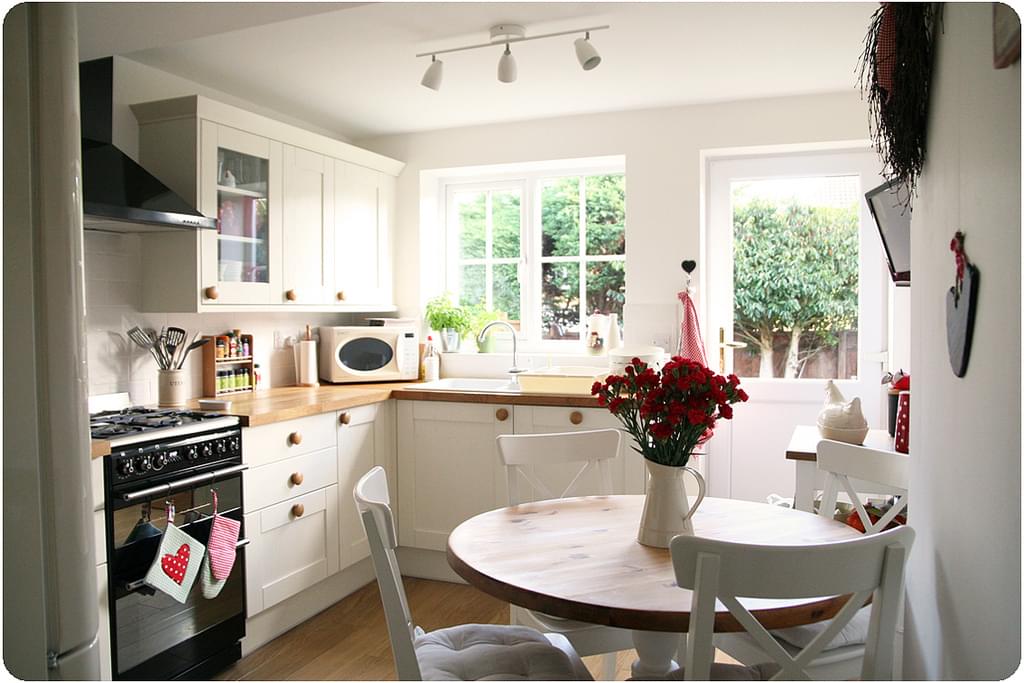 Think gorgeous nests of textured throws, easy on the eye colour schemes and naturally distressed furnishing. To help you get the look in your own home, just follow these easy suggestions.
Pretty in print
Get playful with prints to create an instant, relaxed vibe. Don't worry about finding perfectly matched prints – in fact, the more mismatched they are, the better – pair ditsy, faded florals with an old madras throw, or cast a vintage tartan blanket over a paisley upholstered chair. Contrast weights and fabrics – Work translucent lace with gleaming bronze metals, and drape ornate jacquard weaves over window frames. For that cosy shabby-chic look, hit car boot sales and vintage stores to find beautiful archaic prints that add a touch of history and style to your home. And if anyone asks – just pretend it's "inherited" from a distant great-aunt – a little embellishment will only enhance the vintage aura!
What's the perfect partner to all those beautiful washed out prints and florals? Gorgeous, heavy, distressed furnishings, to add a balancing touch of weight and contrast to light-as-air laces and regal brocade blankets. You don't need to go scrabbling around derelict cottages to find these though – UK Oak Doors produce fabulously authentic looking antique reproduction doors – made of solid oak, in a range of styles. Opt for simpler styles rather than dated, over-embellished furnishing, for a crisp, modern look. Get the distressed vibe – without the annoying termites.
Cosy, toasty textures
Cottage style doesn't mean that your home should look like it's been lifted from the pages of a Bronte novel. Bring your look into the modern age, with the addition of cosy textures that give a tactile look and feel. Sheepskin rugs that just scream to be lounged around on are ideal to cover up hardwood or laminate flooring with a lovely hint of softness.
Treat beds and sofas as a blank canvases to model squishy pillows, nubby knit blankets and chic silken throws. Mix up styles from different genres and eras for an eclectic take on the trend – rustic French hardware looks surprisingly chic when paired with slick modern light fixtures and contemporary art on the walls.
Image credits:
All photographs were found in Country Kitty's Flickr stream, under a Creative Commons license.