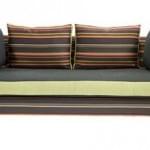 A good sofa is far, far more than just a place to sit while you watch your favourite movies. If you make the right choice, your sofa can be a centrepiece of your living room. Here's a few of my favourite sofas – ranging from simple, modern designs, to luxurious contemporary pieces.
Polka – Contemporary Chesterfield Sofa
The Polka Chesterfield Sofa is something of a chameleon.  It's clean, simple design means that it fits well in both formal and relaxed settings.  Created by the Designers Guild, you can choose from a range of upholstery fabrics, or soft Italian leather.  There are 40 different colours to choose from.  Personally, I like the simplicity of cool blue and white. The wooden legs are available in a range of finishes, including natural, walnut, silver and anthracite.
The small, simple design makes this a good choice for any modern apartment or loft.
Lino – Ultra Modern Sofa
The Lino is another Designers Guild upholstered sofa.  Once again, this sofa is available in the full range of colours and can be upholstered in soft Italian leather, or your choice of upholstery fabric. There are three arm styles to choose from.  My favourite is the narrow arm.
The beauty of this sofa is the bespoke seam detail on the cushions.  It's a small touch, but it makes all the difference to the quality of the design.  This sofa is quite low and deceptively simple in its styling.  It would add a nice touch of luxury to an otherwise minimalistic Scandinavian style living room.
Shoreditch Sofa by Paul Smith
This luxurious contemporary sofa is worlds apart from the first two on the list.  It is available in a range of fabrics and leather.  The bold, bright stripes and contrasting seat cushions make sure that this sofa will stand out in any living room.  You can alter the directions of the stripes if you wish, but personally I think that horizontal stripes look far better than vertical ones would.
This sofa is designed for ultramodern living rooms, but if you're feeling bold it would fit more classically styled rooms as well.  You can choose from two or three seater sofa designs, as well as add optional chairs or footstools.
Mayfair Fabric Sofa
The Mayfair Fabric Sofa is upholstered in Ombrion Peyony Designers Guild fabric.  It has a smooth fixed back, and elegant buttoned arms.  The sofa is styled in a more traditional manner, down to the optional castors on the front legs.
This piece would look beautiful in a period-styled living room, especially if you choose a darker colour or rich velvet for the upholstery.  This is quite an imposing design, so it wouldn't suit a smaller living room – but if you're lucky enough to have a larger home with a sizeable living room which can carry this off, it's well worth the investment.  The sofa comes with three square scatters as well as two rectangular cushions.