When you buy a door, the door furniture you choose is just as important as the door itself in terms of how the overall package looks and feels. And it's fair to say that it really can enhance the look of a door.
There are many options for door furniture available depending on the look you are trying to achieve. The exception to this rule is if you are looking for a cottage style effect and you're keen on the barn or ledge and brace doors or an antique style door, due to the thickness you are limited on what you can use. For this type of door, we'd recommend the black ironmongery range.
Ironmongery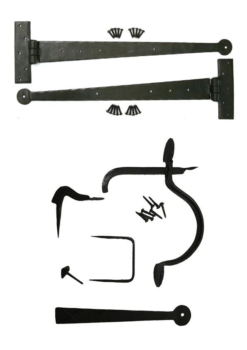 The ironmongery is hand forged using time-honoured methods, so no two items are the same; forged by craftsmen using traditional English blacksmith techniques. All of our internal ironmongery has a beeswax finish. The ironmongery value pack contains the Suffolk latch plus T Hinges to hang the door with a beautiful rustic effect.
You can also use the small waxed butt hinge, the H hinge or the butterfly hinge if you would like to create different effects.
If you need to lock your barn door, we provide a range of decorative items that will only enhance the door. These ranges from the Locking keep complementing your Suffolk latch to the hand-forged privacy latch and the sturdier fishtail bolt.
If you were to go for a more modern looking door like our Suffolk, Victorian, 1930's, five panels, two panels or the contemporary door we supply a wide range of period door knobs and designer door levers to suit every taste.
If you have any questions about our door furniture or any of our other products, then give UK Oak Doors a call today on 01455 501612 where one of our helpful sales team will be happy to help. Or better yet, why not visit our showroom to take a look at all of our products in person.