Now the festive period is over; we've got a surefire way to beat the January blues with our 1930's oak door promotion.
We offer an excellent range of 1930s internal doors designed to provide a wonderfully nostalgic feel for anyone looking to give their home a period look without breaking the bank.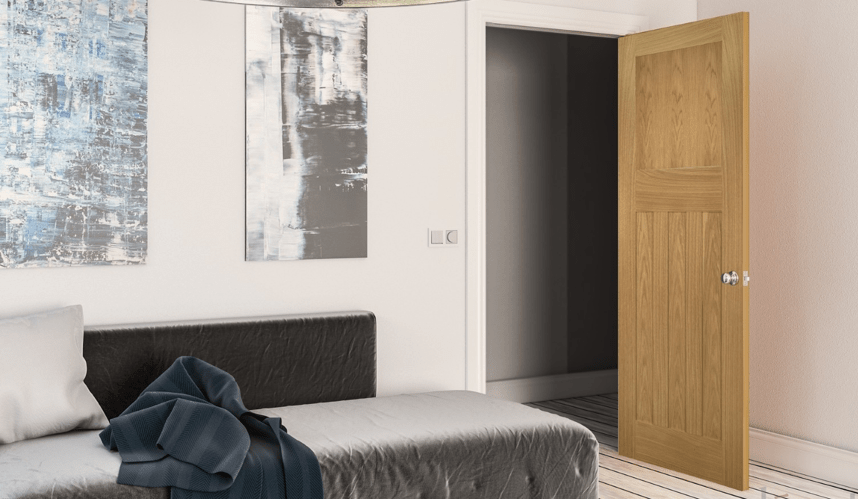 The meticulous flat panels and stylish line of 1930's style doors are a real throwback to the doors from the art deco period.
Solid Oak 1930s Style Doors
RRP: £199.95 £189.95
Description:
This classically styled 1930s solid oak door is a wonderful option if you're looking to add some sophisticated finishing touches to your home. Each door in this range has been created from multiple pieces of oak, which means you can see the natural colour tones and unique characteristics of the knots and grain markings.
The solid oak 1930s style door adds personality and showcases all the features you'd associate with the 1930s, such as three vertical panels, which enable you to capture the look of feel of the period.
Historically, doors like this would've been most commonly made from pine wood and were often painted white. This style, however, has been expertly crafted from solid oak using time-honoured techniques, elevating the look of the product so you can proudly display the natural beauty of the oak for all to see.
1930s Style Panelled Veneer Door
RRP: £125.95  £115.95
Description:
This traditional 1930's style panelled veneer oak door is the perfect opportunity for a homeowner to add a touch of chic individuality to their home interior. It's also ideal for those who may wish to add a time-honoured feel to a modern dwelling.
A highly distinctive 1930s interior door, the traditional oak construction truly encapsulates the simple, but unmatched authenticity of 1930s design. This door will really add a nostalgic wow factor to your home interior.
1930s Cambridge Fire Door
RRP: £179.95  £169.95
Description:
People often assume that style and safety aren't compatible. But that myth is busted the moment you set eyes upon the 1930s Cambridge fire door. Beautifully intertwining rugged protection and delicate design features, the Cambridge proves that form and function can be achieved in one package.
The Cambridge oak fire door boasts an incredible safety rating to help you protect those things in life that mean the most. The design is prominent enough that it can either act as the centrepiece to any room or fade into the background for something a little more subtle.
When you choose the Cambridge, you'll have a beautiful door with an excellent safety rating; leaving you safe in the knowledge that your home looks great, and your family are well protected.
Cambridge 1930'S 1 Light Glazed Veneer Door
RRP: £169.95  £159.95
Description: The Cambridge 1930's one light glazed veneer door comes unfinished and pre-glazed with a frosted glass panel to allow light flow, yet maintain a certain level of privacy. The 6mm laminated glass also offers great strength and, as is with standard with the Cambridge range, they have substantial 18mm lippings on each side.
Because the Cambridge comes unfinished, it gives you the opportunity to create either a complimentary or contrasting look, which is why the Cambridge is absolutely perfect for any interior style and taste.
All of our doors have been manufactured using high-quality materials which provide fantastic strength and long-lasting durability, and the Cambridge is no different. The door will also maintain its beautiful appearance and natural wood grain look for years to come.
We run a new promotion each month, so if you're interested in any of the products we've featured in this blog or any of the other savings we have across our ranges, then be sure to act quickly as we only offer these savings for a limited time.
If you have any questions about any of our products, then give UK Oak Doors a call today on 01455 501612 where one of our helpful sales team will be happy to help. Or better yet, why not visit our showroom to take a look at all of our products in person.