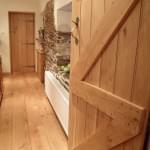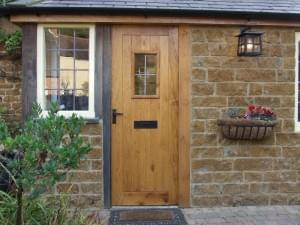 Winter in the UK can be quite unforgiving at the best of times, but with early forecasts suggesting that this winter could be one of the harshest on record, it's essential to protect your home.
In response to changing climates, wooden doors demonstrate numerous symptoms, which, if not addressed, will manifest into something incurable; significantly constraining the door's ability to function.
In this blog, we're going to examine the most common winter symptoms that could plague your doors and how you might take preventative measures to prevent them.
Symptom One: Sticking
When the weather gets colder, the wooden fibres which make up the structure of your door begin to contract. Once the temperature starts to rise again, the fibres will expand. This consistent cycle of expansion and contraction will alter the fundamental shape of the door.
When you think that the gap between the door and the frame is only a matter of millimetres, it won't take much warping before the door begins to catch on the frame, which makes opening it a lot more difficult. This warping effect also works the hinges which can cause the door to fall away from the frame.
Symptom Two: Cracking
As well as sticking doors, you should also be aware of cracking. Cracking happens because of a sudden drop in humidity in our homes – not a direct result of the winter weather, but rather the heating solutions we use to counteract it.
Dry air will consume moisture from any source it can – this includes the moisture that has made a home in your door – and this causes the wood to warp and crack as the moisture is extracted.
Speaking from a purely practical point of view, cracking isn't as significant a problem as sticking. However, it has a considerable impact on the aesthetic appeal of the door.
Cracking commonly appears along the inner panel. Paint top layers become very rigid once they dry and as the wood below begins to contort and spread it pulls the paint along with it. This adjoining section within the panel is where the difference in moisture, temperature and orientation is at its most contrasting, and this is where this unsightly cracking begins to develop.
The Solution
Fortunately, these symptoms are far from unpreventable, and with a little forethought, you can ensure that you protect the wood well before it ever becomes an issue.
Sealing
When gaps begin to appear around the door, you'll need to be sure these are correctly sealed. You can use sealing strips, which sit around the edges of the door or sealing paste, which can be a applied around the perimeter.
Either will compress slightly when the door closes, which squeezes into the gaps. This helps to preserve the doors aesthetic appeal and aids soundproofing and heat retention.
Finish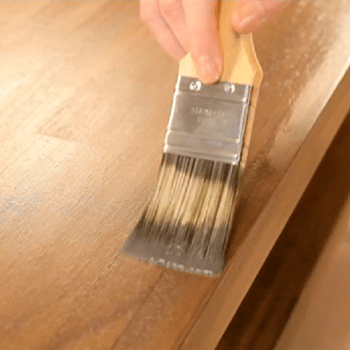 As well as sealing spaces, it's essential to protect the wood itself from the harmful effects of dry air looking for moisture. Using a wax coat operates as a sort of moisturiser for the wood; soaking into the wood to create a protective barrier.
Prior to applying your finish, you'll need to make sure the door is clean – the last thing you want is to apply a coat of finish on top of any blemishes. Run a damp cloth over the surface of the wood to completely remove any dirt. Let the wood dry thoroughly before adding your wax; otherwise, you're trapping too much moisture.
Insulate 
As well as trying to prevent cold air from travelling through the gaps at the side of the doors, we also need to prevent heat energy from escaping.
Insulating your doors using draught-excluders along the bottom and side, prevents heat from escaping, which keeps the room warm and lowers your energy bills.
You could also opt for a new door, of course. Our top-quality oak doors are completely solid, which keeps in more of the heat than a hollow centred one.
Tightening
As well as protecting the wood of the door, and ensuring it keeps out the cold and keeps in the heat, you'll need to tighten the hinges.
This needs to be done very carefully, which means a drill is an absolute no-go. Use a manual screwdriver, as it's very easy to tighten 'too much' with a drill. And when you twist a screw more than is necessary, it can strip the socket and render the screw completely useless.
Humidifier  
Investing in a good quality humidifier helps to maintain a proper moisture level in your home. Sensor humidifiers like the Seneo 3.0L Ultrasonic Humidifier, detect the moisture in the air; adjusting automatically to sustain a consistent level.
Keeping humidity at a constant within your home will help the lifespan of your doors and any other wooden pieces you may own.
Areas to Look At…
If  you're in the market for some new doors, winter should be a key consideration before you buy.
Patio Doors
During the colder months, the biggest vulnerabilities for your home will be glazed doors. Naturally, patio doors fall straight into this category.
Buying doors with double or triple-glazing will trap gas between the layers which form an effective barrier against the cold and heat loss. Which is why many choose these for French doors, as well as standard patio doors.
External Doors
Just like any glazed door, external doors will also need protection from heat loss and create an effective and secure barrier from the cold and any unwanted attention.
Thr best front doors for the winter are those which combine a solid, engineered inner core with an added flourish of aesthetic appeal. Each of the individual planks of wood which make up the core will begin to change shape in response to temperature changes, but they are unlikely to do so in a uniform way – meaning that each piece will nullify the warping of the plank next to do it and so on.
Temperature changes have the potential to cause irreparable damage to wooden doors, so it's essential to understand, anticipate and protect them.
If you're unsure on any aspect of our blog or you'd simply like some advice on what wax to finish your door with, then don't hesitate to get in touch with us.
So, if you need a helping hand with your door selection, then give UK Oak Doors a call today on 01455 501612 where one of our helpful sales team can help you make your choice. Or better yet, why not visit our showroom to take a look at all of our products in person.