The British summer doesn't last long, so it's important to take advantage of every single moment. We're lucky enough to have a nice big garden at the rear of our home; one which sees sun for a large portion of the day. My wife and I love spending time out there, but our teenage kids seem happier spending their time indoors updating their Facebook pages. This year, I'm determined to change that. We're having a barbecue, and they're going to enjoy it!
This Biergarten Dining Set is an ideal replacement for the rickety plastic garden furniture we have right now. It's big enough to accommodate a few of our friends when we're entertaining, and it provides enough working space for my wife to use when she wants to take her laptop outside to send emails on a summer evening. The design really does evoke memories of the beer garden outside Fruh in Cologne, too.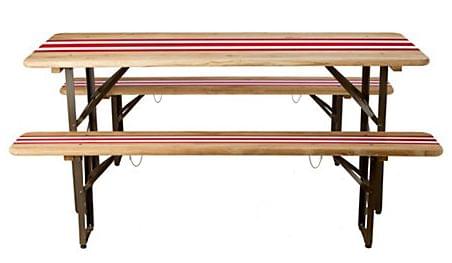 Of course, persuading the kids to come and hang out at a beer garden table is not going to be easy. I think putting a couple of these Ibiza Chaise loungers on the patio might help. I don't think the natural colour would survive for long in this household, but the Navy looks a lot like blue denim, so it should cope well with iced coffee stains, and still looks young, trendy, and comfortable.
The Ibiza Chaise carries an impressive price tag for something that seats only one person, starting at $800 for the most basic model. If you're on a budget, and want to seat a few more people, this classically styled Le Versha Chair is a fraction of the cost, and since it's made of iron it's easier to keep clean too.
Pair it up with this vintage table for some vintage, decorative seating when entertaining large groups. You could pick up the table and a few chairs for the price of one chaise, and while wrought-iron inspired chairs are nowhere near as comfortable as a chaise, they most definitely look good.
Speaking of looking good, this illuminated outdoor table is awesome for evening entertaining. I love looking at Hollywood mansions and penthouse pool areas. I know it's unlikely that I'll ever live in somewhere like it myself, but serving hors d'oeuvres around our pond, before retreating to the patio for cocktails served at one of these trendy tables is the next best thing. Now if only I could get some celebrity special guests to come and hang out with us…..
Some of our close friends have children, so we need to make sure that our pond is safe. It's not a large pond, but it is big enough to be dangerous for a small child. Before we can safely entertain, we need a good pond cover. Most of the commercial ones I've seen are rather boring and utilitarian. I want a pond cover that looks like a decorative feature itself. Something like this creative pond cover:
Now all I need is a barbecue to go with it. Oh, and some cooking skills!