Here at UK Oak Doors we are big fans of all things DIY, design and décor - especially when it comes in blog form! We've compiled a list of our favourite interior design based blogs which include everything from home renovation to crafty interiors projects. So without further ado, here is our top 30 for you to enjoy:
This San Francisco based blog is a colourful showcase of bohemian modern style, packed with beautiful images and interior inspiration. Editor Victoria Smith along with a talented handful of contributors update the blog daily with posts on inspiring interiors, furnishings, textiles, art, home wear and more. Sf Girl by Bay is the perfect place to find décor ideas for your home.
You can find them on Facebook and Twitter.
Step inside the 1890 Victorian home of blog owner Victoria and see the story of how she purchased a 'crumbling Victorian house' and is lovingly restoring it into a beautiful home. The blog is divided into categories such as projects, crafts, decorating, garden and more, or you can choose to follow their journey from the start. The blog itself is full of fantastic home inspiration but Victoria's brilliantly entertaining posts make it an even better read.
Find Victoria Elizabeth Barnes on Facebook and Twitter.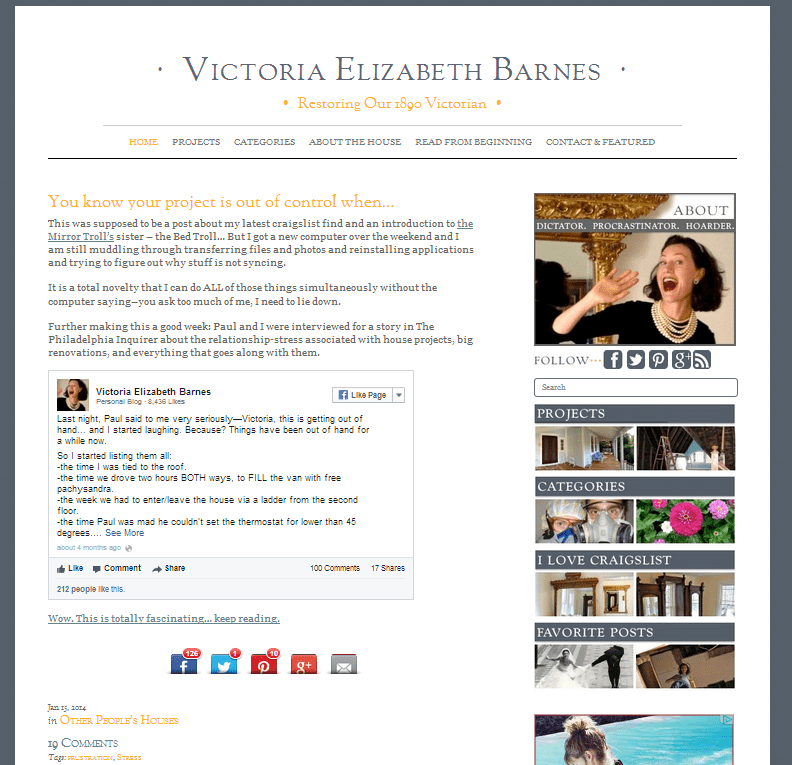 Well I Guess This is Growing Up
Follow blog owners Karen & Joe as they embark on the huge task of renovating their first home in Manchester. Karen gives regular updates on the construction of various parts of their new home with everything from designing entire room layouts to picking paint colours. We love seeing their renovation progress and we're sure you will too!
You can find Karen regularly updating on Twitter.
The Country Chic Cottage offers everything from crafts to recipes, but it's the fantastic décor posts which win it a place in our top thirty. Owner Angie shares decor tips and tutorials including budget friendly thrift store makeovers and even ways to replicate expensive home pieces for a fraction of a price. You can even take a tour around Angie's cottage, to find inspiration to add some farmhouse flair to your home.
You can find Angie on Facebook and Twitter.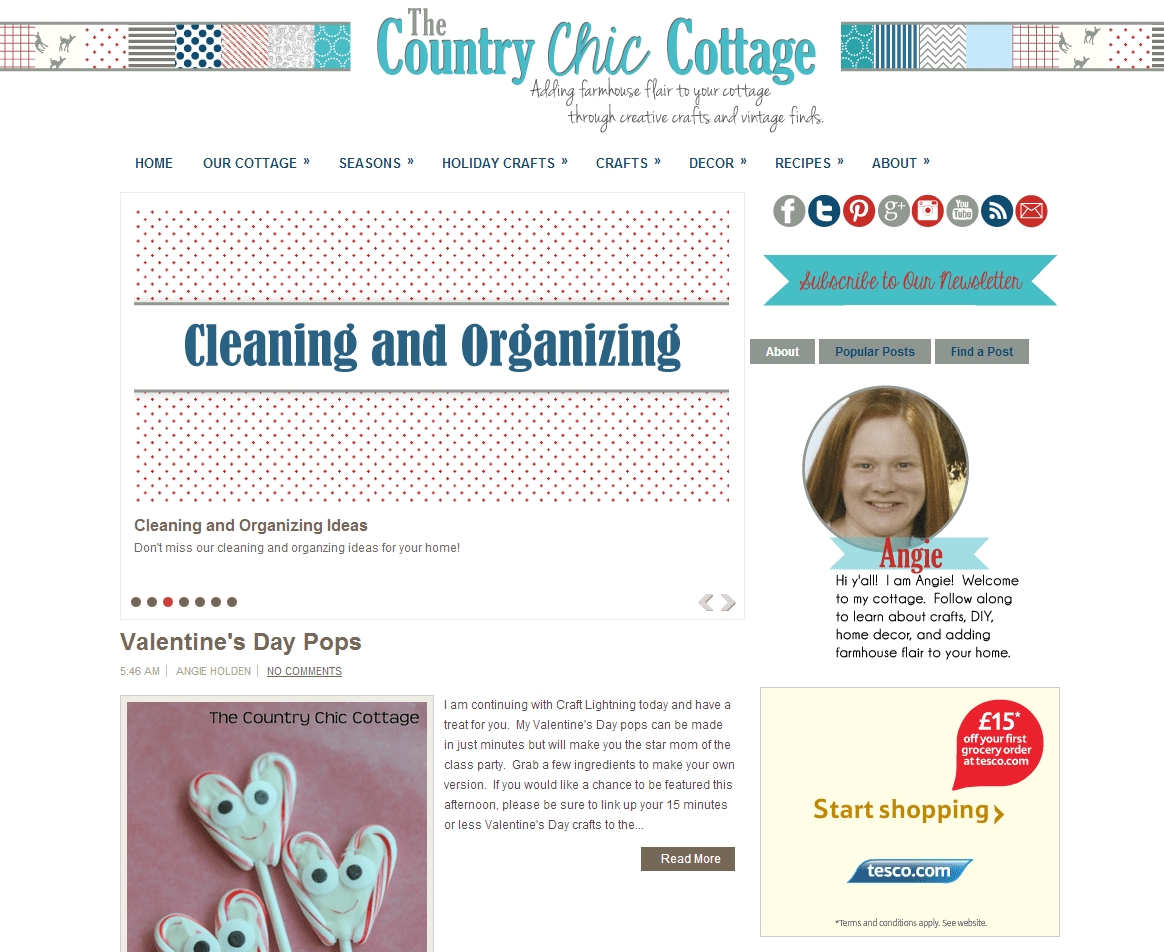 Blog owner Cait Geddes Canvas is passionate about interior design and upcycling; something that clearly shines through in her posts. Finding old furniture from flea markets, second hand shops and auctions then transforming them into beautiful home pieces seems to be Cait's speciality. This blog is perfect for anyone decorating on a budget who is looking for ways to upcycle and improve their furniture.
Get updates from Cait on Facebook.
Take a look inside the stunning home of blog owner, home stager, and interior designer Leslie. Her blog provides readers with useful advice on staging and organising a home, but the thing that put Goodbye, House! Hello, Home! Into our top thirty is her fantastic redesign posts. Her before and after images are extraordinary, so check out her blog if you think your house could use a transformation.
You can also find Leslie on Facebook and Twitter.
Maria Killam is an expert in colour and her blog teaches readers how to choose and use colour in their décor. Maria also talks about trends and décor alongside features like 'Ask Maria' in which she answers reader's questions. This is certainly the blog to go to if you want to know how to colour your home.
Find Maria on Facebook and Twitter.
Room Fu (Fu for Thought)
Fu for Thought is the colourful, quirky and fresh blog of Texas interior design company Room Fu. They showcase everything from design inspiration and new product releases to fantastic interviews with celebrity designers. This blog is the perfect location if you're looking to make stylish, modern updates to your home.
Check out Room Fu on Facebook and Twitter.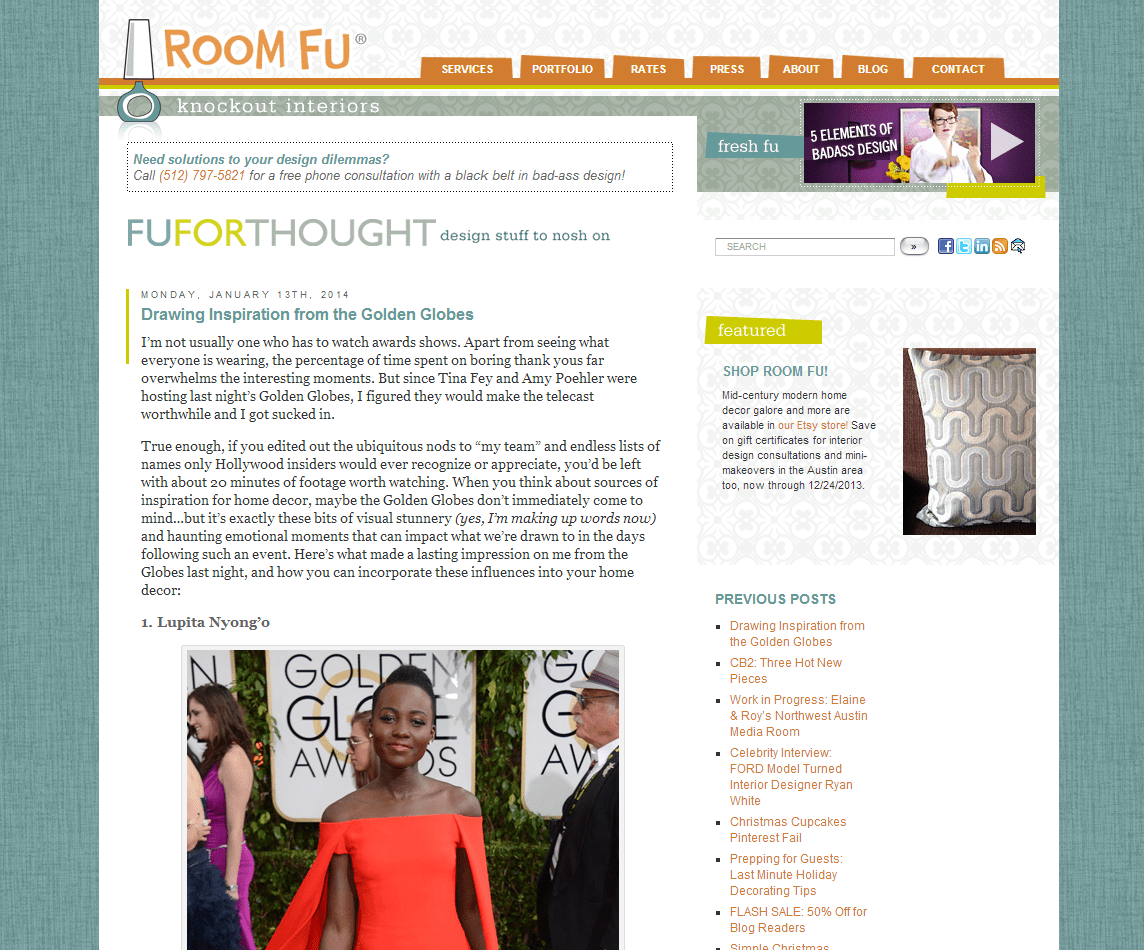 This blog covers everything from room projects to art to gardening. Owner Vidya shares images of her beautiful family home along with tips, tricks and tutorials to help readers with their own décor.
You can find Vidya on both Facebook and Twitter.
Mid 2 Mod is a wonderfully unique blog where owner Dana shares her love of vintage and new modern design. The blog contains images of gorgeous architecture, home design and accessories, as well as a tour around Dana's own 1950's built home. She also showcases home pieces from her shop of the same name so if you see something you like you can snap it up!
Check out Mid 2 Mod on Facebook and Twitter.
Life in Sketch is run by interior designer Tina Ramchandani who regularly posts beautiful images and home designs. Check out the fantastic interviews and tours section to learn more about experts in their design field and explore beautiful locations. This blog is fantastic for anyone with a love of design.
You can also find Tina on Facebook and Twitter.
This blog is created by interior designer Courtney Price who shares her thoughts and ideas on everything from food to design. Courtney Price is a fantastic place to get the insights of an interior designer on a number of topics, so it's the perfect blog for anyone with a passion for design.
Find Courtney Price on Facebook and Twitter.
My Simple Home Life showcases the beautiful work of its owner Jacqueline who describes her style as modern mix with old, beat up, and reclaimed. You can see her incredible furniture transformations - taking old pieces and breathing a colourful new life into them, and even purchase lovely pieces from her store.
You can find Jacqueline on Facebook and Twitter.
Décor and the Dog follows blog owner Michelle, her husband Nate, their adorable dog Ike (who you will see popping up regularly in posts) and their beautiful home. The blog has an incredible home tour gallery and an extensive section on building info so it's a must see blog for anyone looking to renovate or build their own home.
Find Décor and the Dog on Facebook and Twitter.
Blog owner Jennifer Flores shares her incredible before and after home transformations with her house tour and offers pages of beautiful photos of her home, section by section, in her project gallery. The gallery covers renovations, home improvements, decorating ideas, design boards and more, so it's a must see for anyone thinking of renovating their home (and a great browse even if you're not!).
You can follow Rambling Renovators on Facebook and Twitter.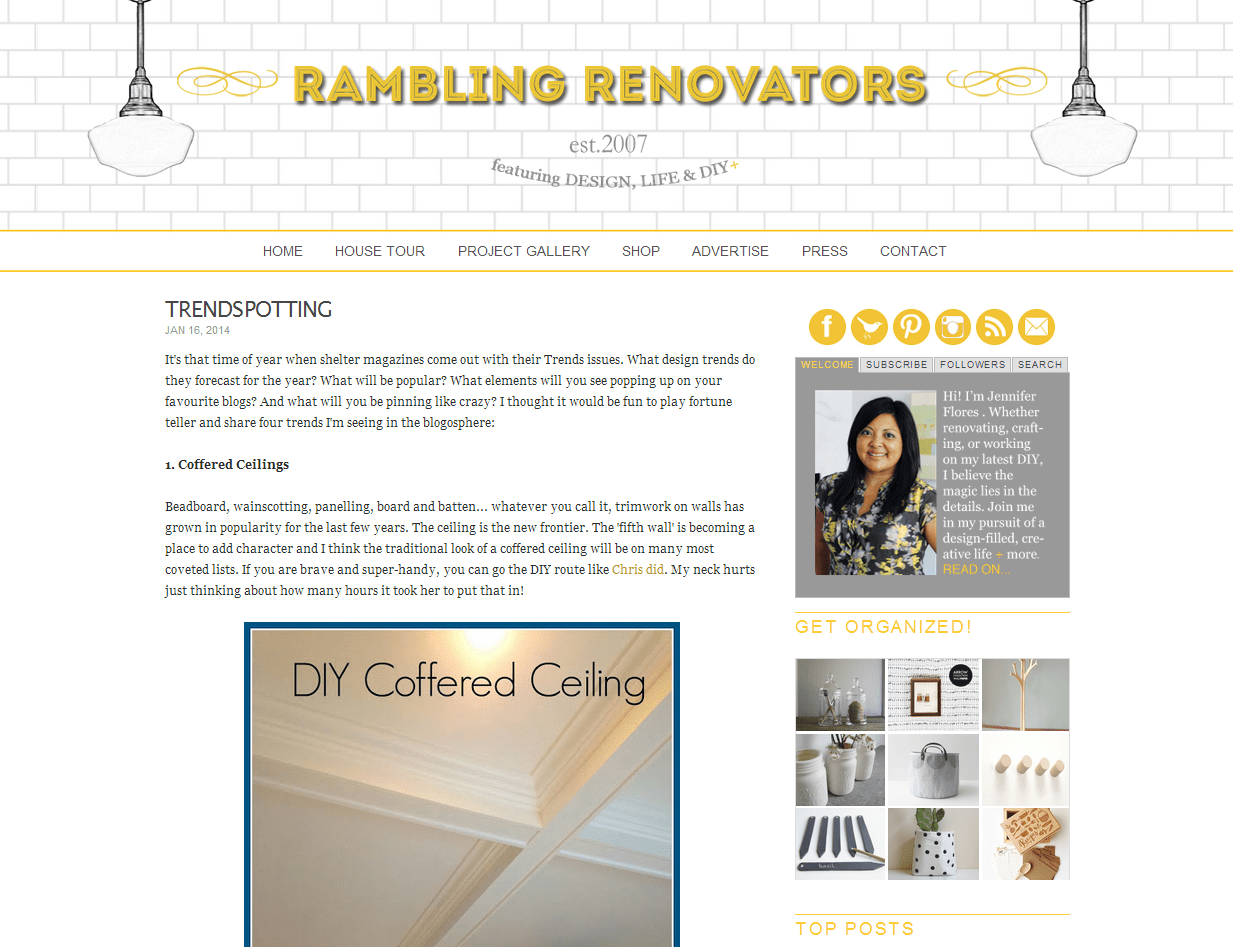 Chezerbey follows architects Lauren and Kyle Zerbey on their journey as they remodel their home and other projects. This blog has one of the most comprehensive house tours we have ever seen and has a great collection of design plan images so it was an easy decision to include it in our top thirty.
You can follow Lauren on Twitter.
Run by self-confessed 'junkaholic' Donna, Funky Junk Interiors has a wealth of wonderful posts showing readers how to make beautiful home pieces out what many people would just consider junk. Donna's projects section contains a huge number of these transformations and her how-to's are incredibly detailed.
You can follow Funky Junk Interiors on Facebook and Twitter.
Material Girls is a great blog to visit if you're in the mood to drool over gorgeous home pieces and décor images. This blog is unique, being split into sections by location – with each area being covered by a designer who is passionate about the industry. We enjoy exploring the blog and keeping up to date with the latest interior design trends.
You can follow Material Girls on Facebook and Twitter.
The House of Smiths is a wonderful mixture of DIY and family life. Run by owner Shelley, the blog features beautiful images and a wealth of tutorials, all located in one handy gallery. Her projects are often achievable and budget friendly, meaning anyone can make beautiful additions to their home.
Check out The House of Smiths on Facebook and Twitter.
The Hunted Interior, run by Interior Designer Kristin Jackson, contains some of the most beautiful home photography and design ideas we have come across. The blog has a wonderful gallery of tutorials and a truly unique flip book approach to the home tour.
You can visit The Hunted Interior on Facebook and Twitter.
Tennessee based blog owner Kathy shares her love of restyling old furniture at Petticoat Junktion. There are project pages in which Kathy talks readers through how she achieved beautiful results when painting and updating furniture – perfect for anyone looking to do the same for their own home.
Find Kathy over on Facebook and Twitter.
The DIY Homegirl is full of great DIY ideas, colour guides and tutorials, to help you update your décor and furniture. You can also get inspired by the regular photos and posts blog owner Angela shares of her own stylish home. This blog is great for anyone looking to jazz up their apartment.
You can find The DIY Homegirl on Facebook.
Blog owner Nicolette fills Decorate Decorate with gorgeous hand decorated DIY items which would add a charming flair to anyone's home. The blog shows her process of crafting the items (which you can actually buy in her etsy shop) and is a fantastic place to visit if you want to get inspired to personalise your own furniture pieces and accessories.
You can also find Nicolette on Facebook and Twitter.
Run by designer Cathy Wolfram, Adore Your Place is a fantastic resource for all things interior design. There are in-depth how-to's, a great projects section and even galleries to get inspired which are divided by style, room, and colour. Even better is the just ask section where Cathy advises readers on their design dilemmas.
Check out Cathy's Facebook and Twitter pages.
This is the blog of interior designer Stacy Naquin who shares a range of beautiful interior ideas, tips, and photographs. This blog really has it all and gives you a look into the world of an interior designer. It's the perfect place to visit if you want to get inspired and keep up to date with design.
Find Stacy on Facebook and Twitter.
Hadley Court is the blog of designer Leslie Hendrix Wood who describes fine living as enjoying the everyday pleasures. Her blog features beautiful, luxurious looking designs as well as tips and ideas on how to live graciously. The most wonderful part of Hadley Court is the emphasis on family and enjoying life, which makes the blog a delightful read.
You can find Leslie on Facebook and Twitter.
Blogger Lauren shares her tips and ideas for creating a wonderful home on a tight budget by using what you have. There is a great project gallery where you can access brilliant ideas for repurposing, craft projects, room makeovers, and more. The Endearing Home is full of beautiful photographs which are sure to lead to some home décor inspiration!
You can find Lauren on Facebook.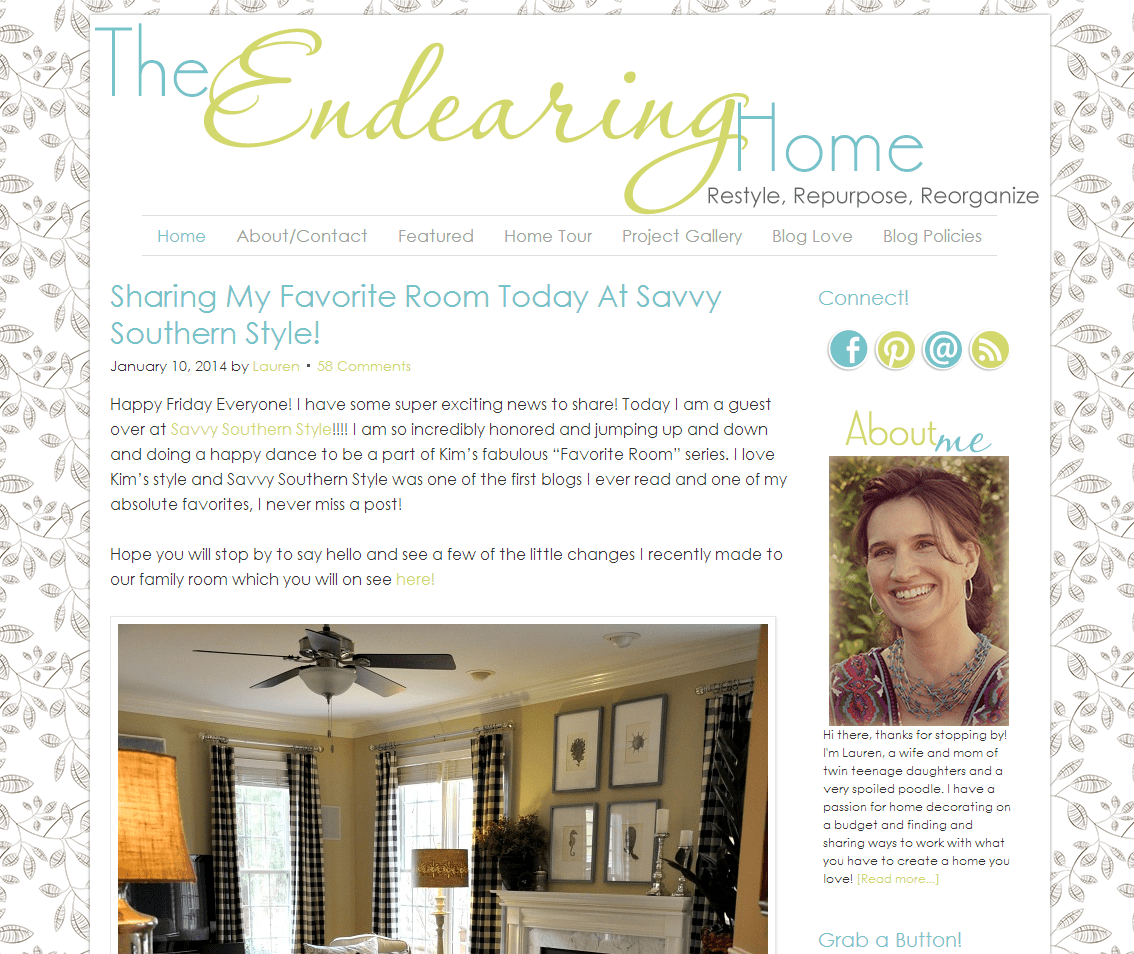 This blog is all about getting inspired by design. Designer Marissa showcases colourful cool products, design item steals, and plenty more. This is a great online location to keep up-to-date with trends, and find beautiful and funky items for your home (especially if you're on a budget).
Check out Marissa on Facebook and Twitter.
Follow Rissa and Charlie as they transform their home and share their experience with readers. The room tour section of Riss Home design is fantastic; each room has before images and progress, along with little lists like 'done so far' and 'still to do'. There is also regular progress updates, design ideas, and more.
Find Riss Home Design on Twitter.
A blog all about showcasing fresh new design ideas and pieces, Fresh Design Blog is great because it features some truly funky home décor and accessories. There are also some brilliant how-to's and guides. Fresh Design Blog is just an all-round design and décor location for anyone looking to get inspired and add some fun pieces to their home.
You can check out Fresh Design Blog on Facebook.