We're an ambitious bunch here at UK Oak Doors and always like to test ourselves with a new challenge. So when someone suggested we enter a Soap Box Derby recently, we quickly considered the materials and master craftsman at our disposal and jumped at the chance!
After hours of research and plenty of head scratching we finally found the perfect base for our Soap Box and set off to collect it. With this piece of engineering excellence now in our workshop, we set about transforming it into something suitable of wearing the UK Oak Doors' name.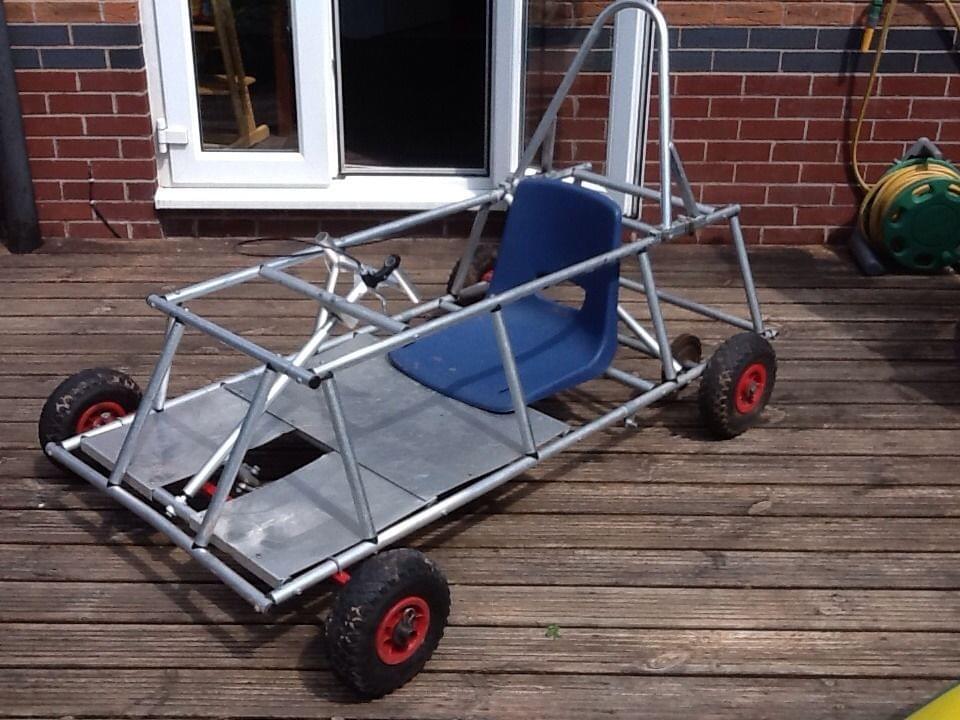 With an idea in mind of how the Soap Box should look, we handed over some notes and left it to our Carpenter to work his magic. Cue the A-Team music!
After a few days of drilling, sawing and sanding noises we were called to the workshop to admire the finished item. With very little time to get us race ready, our Carpenter had somehow managed to create this masterpiece!
We were ready to go racing and with a day to spare. With no previous experience of Soap Box racing we were slightly nervous but also quietly confident. On the morning of the race our team set off to Hinckley town centre and arrived early to assess the competition.
The organisers were on hand to put our Soap Box through scrutineering as an interested Smurf looked on.
With the Soap Box given the thumbs up by the organisers, we were ready to race. The team lined up for a pre-race photo before handing over to Gunars who would be our first driver.
With anticipation and excitement building, Gunars lined up at the start with Will, Davey and Nick ready to give him a push start. What happened next can only be describe as a worrying anticlimax. Gunars quickly lost speed with the Soap Box struggling to make it down the hill at all, let alone with any sort of respectable time!
With all of the nerves and excitement we had forgotten to pump up the tyres or grease the axles.
After crossing the line with a time of 47.7 seconds it was back to the pits for some much needed maintenance work ready for the second run. Next to take the driver's seat was the boss, Nick. With plenty of experience behind the wheel we were expecting big things and he didn't disappoint.
A time of 28.6 seconds was a big improvement and helped to push us much further up the leader's board.
Now mixing it with some of the quicker Soap Boxes we were optimistic heading into our final run. Davey stepped into our Oak Box next and even with slightly obscured vision managed to record an impressive time of 27.7 seconds! A staggering 20 second improvement on our first run.
So how did we do? Well, the competition was strong with entries from Nissan, MIRA and even Jaguar Land Rover! Overall we placed 16th of 29 in the Senior class.
Everyone had a brilliant time and we received some fantastic feedback on our entry. With our first race still fresh in everyone's memory, our competitive side has already had us discussing potential improvements for the next derby!
We even had a nice surprise and made the front page of the Soap Box pull out in the Hinckley Times!